1970 was a carry over year...
with the exception of the inner grill and some options. '70 was also a year of fewer sales for the Longhorn. 5281 3/4 tons were built this time around, and only 1404 wer made with the C/30 designation.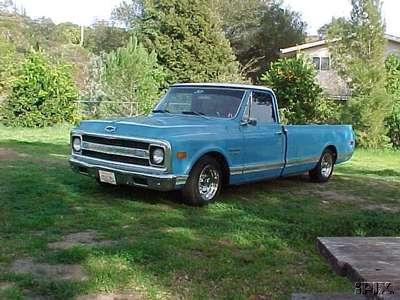 This Longhorn was found for sale on e-bay,
Very few heavy duty trucks are given this treatment, and even fewer pull it off as well as this one.
The only information I have on this tastefully done truck, is what the e-bay auction said.
C/20, 402 big block backed by a T.H.400. Lowered and wearing 225/60's on 16 inch rims.

Father/son project in Utah.
Purchased from his older brother, this truck has seen better days. I have not spoken to the owner since '99, but at that time he and his father had just rebuilt the original 327 and were getting ready to put it back in for a little fun untill the wallet would allow the paint and body.
Dig the quad tail pipes.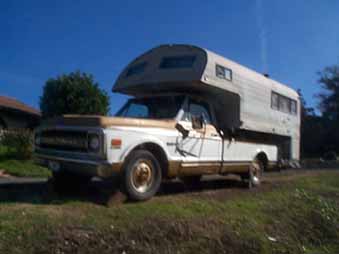 How often do you see this?
Here is an interesting truck.
Was for sale in the winter of 2001 in California, this 3/4 ton was equipped with the typical 350/TH350 and had A/c and bucket seats.
The only information on the camper is it was advertised as a 'Travel Queen' camper.
Looks like a good weekend trip just waiting to happen.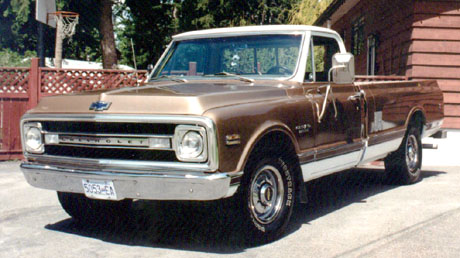 1970 Chev CST C-20 Longhorn
Marvin & Norma of Princeton, British Columbia, Canada, bought this fine looking rig in May of 1997. This well equiped big block truck was optioned with bucket seats, RV Mirrors, and the hard to find CST package among other things. Wearing fresh paint, this ride looks just as good as it did on day #1.
Marvin says;
"The throaty rumble of the exhaust from the big block is the coolest thing you'll ever hear".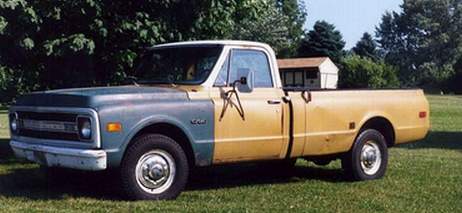 My latest project
A C/30 Longhorn, with some pretty tastey features, including cruise control, a Pontiac 350/TH350, no wood in the bed, and a long cool road trip to PA to pick it up.
Yes, it is a bit of a fixer-upper, however, I have yet to buy a truck that I was able to just jump in and drive home, so it is right up my alley.
Future plans call for the proper make of 350, and some body work.